February 10, 2015
… I have so much blood
when I wake up
it rumbles under my ears
a stampede of blazing horse rabies
barreling toward my threshold.
Put your head to my plunging chest if you
still can't hear them coming.
In my hiding spots
they find me
breathing too loud.
I have been pulled out by the ankles.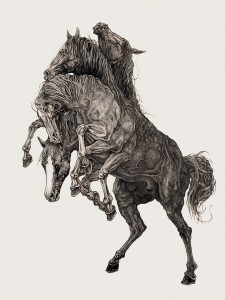 In these bones
it is my understanding
whatever suffering is left of me when I die
will translate and travel with me.
On days like today
this is the only reason I stay here.
When I go
I do not want to take this beast with me. Not one more step.
(Image by AJ Frena.)