August 8, 2015
Just after my 41st birthday on a walk in Boulder
I told Andrea and Emily I intend to be an actor now
and that I want to move to Los Feliz by October,
but I don't wanna pay more than $XOXO for a studio,
and it needs to be furnished because I just sold or gave away
everything I owned, again.
Two weeks later, upon being evacuated from
a Vipassana meditation center due to a wildfire near Yosemite,
I hopped into a car headed West with a guy named Clay
only to end up at a different Vipassana center
nearer San Francisco.
Before I walked into the kitchen the next morning to begin service,
the other servers asked Clay who was with him.
Clay told them he didn't know much more than
I was a poet looking at moving to Los Angeles.
When I walked into the kitchen a woman named Lexi approached me
and said she was once on the Pittsburgh Poetry Slam team.
Oh, and also, she heard I was considering a move to L.A.
and that if I was interested,
she was trying to find someone to take over her lease in Los Feliz
before October for exactly $XOXO.
The only catch is that she's considering a move to Peru
and doesn't want to take her things,
so it's furnished.
When I remove the screen
from this window in my new Los Feliz apartment
I'll be able to see that strange white sign on the side of the mountain.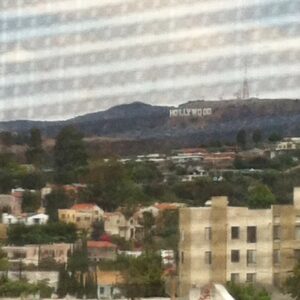 I'll be sure to include the Griffith Observatory in the next photo.
Application approved yesterday.
Moving from Boulder to L.A. on August 31st to write,
and be an actor.