October 12, 2015
Three things I love about this promo poster
sent by the good folks in HOUSTON, TX
for the show at Alley Theater NOVEMBER 21st: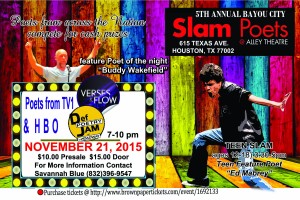 1) Ed Mabrey's name and my name are in quotes,
an apparent challenge to whether or not we are real.
2) The photo of me looks like a
strangely-timed still shot taken from the
party scene in Almost Famous where Russell yells,
"I am a golden god!" from the rooftop
before saying "…and you can tell Rolling Stone
Magazine that my last words… were…
I'M ON DRUGS!" before jumping into the pool below.
3) HOUSTON!! ALLEY THEATER!! ED!!
DUDE ON RIGHT, LET'S DO THIS!!!
Sincerely stoked for the hometown show, y'all.