August 7, 2009
I started writin' an entry way back
but there was a journal glitch with this site.
So now in fast forward:
I got a pinata for my birthday.


I always wanted a pinata. Friends made it happen,
filled it with chocolate and little bottled beverages
and confetti and a cap gun and a fake snake
that came coiling out. Oh, and this special superscore
to keep me well-groomed and fashionable:
That's right Ladies, a mustache switchblade comb.
Ahh yeah. Who wants it?
Next in my summer vacation
I started thinkin' about my first memories
and my first friend, Jimmy Jones.
We were best friends. Because we told each other so.
I lived with him and his family for a while in Kirkwood/Binghamton, NY.
We were four then. When I moved four hours away
our parents would put Jimmy and I on the phone with each other
and I remember that there would be no conversation…
we would just laugh real hard for about ten minutes.
This is me (#42) hugging Jimmy on the day we moved away: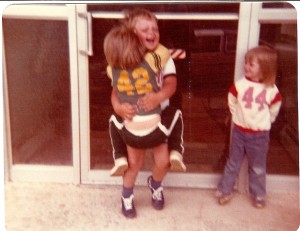 Funny little thing called Facebook led me back to the legend himself.
His response was so stinkin' joyful I nearly spontaneously combusted
into streamers and Elvis poses and heavy metal and Wrestlemania,
the certainty of our friendship still so alive and well
absolutely untainted by whoever it is either of us think we are now.
I was overjoyed to catch up with him on the phone
and to learn that he's the lead singer of a band called
Jimmi Jones and the Family Jewels.
We get to cross paths for a reunion in September.
This summer turned up bunches of quality new folks and events…
I transplanted to another part of Seattle,
saw a WNBA game (not to mention
the upcoming Mariners/Yankees game
with my newly wedded friends, Ross and Heidi!),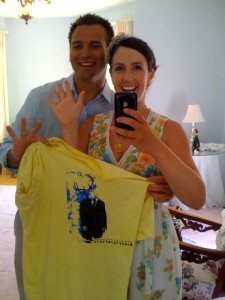 and I had a sweet yard sale during the Greenwood car show,
cleaned, a lot, got pre-approved to buy a home,
played the Poetry Olympics in Michigan,
bought a season pass to the zoo with my gal Lindsey
(who is a voice of reason, and she jogs with me around Greenlake,
and calls me Sunny Buns, which makes me chuckle),
and there were a whole bunch of blessin's,
especially my new friend Brian
who introduced me to The Center for Spiritual Living
where I finally found the kind of fellowship I was seeking.
It's been a city of great parties and BBQ's too. Hey,
here's one of my new friends, Albert, and I
sharing corn on the cob at one of said delicious parties: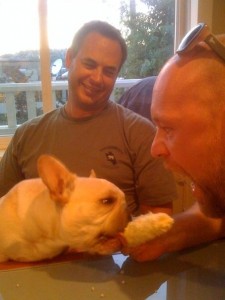 We were so dang hungry. Ravenous really.
The Fremont Solstice Parade tends to be
one of the best days of the year in Seattle. This year was no different.
More naked bicyclists than ever, crazy floats, tasty foods, music, festival,
gardens of beer, and the frickin' awesome sun.
Our buddy Malcolm (one of the photographers for this site)
let us cool off inside Fremont Studios for a minute or ten.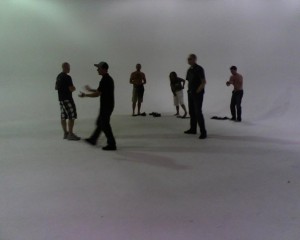 We were dehydrated and wobbly
and there was a mock raptor fight inside.
Raptors are super ferocious.
Anyhow, that's Brian (who also showed me the cathedral on Capitol Hill
after 11 years of admiring it from the outside) in the front left of the picture,
with Marty. After the parade, Brian and Marty and I went back to my house.
We wound down and left the doors open and listened to a bluegrass band
playing in my neighbor's back yard. They were impeccable. The mood was so good.
I remember they sang a cover song by Old Crow Medicine Show called "Wagon Wheel."
I like that song a lot.
I also got to play on a co-ed softball team with the badass crew from Second Use Salvage.
When I say badass, I mean to say that they were really bad at winning softball games,
but who gives an ass because they're so dang fun to be around.
My boy Rod Dogge, who's been a huge part of pretty much every CD I've put out,
introduced me to all those folks a few years back for poker.
I'm thinkin' we should stick to poker.
Hey, here's a pic of Rod and Brian and I
lookin' fairly Aryan by accident:
That's Wyleen on the far left (from Human the Death Dance)
and Shona is in the middle. The two of them are the reason
I had a home when I got off the road after that couple years in the car.
The other gal is Rose. She's the reason I found out that the goal of all living things
– according to Freud – is death.
We're there at the beautiful outdoor wedding last weekend
for Beverly and Charles. Congratulations Beauties!!!
And that first dance… whew, you two were soo SMOOV.
The once little girl, Ruby, who did vocals for Run On Anything
("You still don't know you're amazing for the things you see.")
is now a gorgeous 11-year-old, and at the reception
she spoke to me a poem about how her mind hugs the moon.
We danced together.
Also on my summer vacation so far
I went to the Bay Area for a visit where there was
scrumptious lunch with [completely] Joe
and an awkwardly fantastic show with Berzerkeley Slam,
and Tourettes Without Regrets, where I got to do a set with Jim Greer of Rondo Brothers
and jogging around Lake Merritt with Jon,
and rugby-style water polo on July 4th at Ted's
and then I returned home to Seattle and got to perform
with Damien Jurado and Rosie Thomas at The Triple Door.
Knowing I was to fly down to Shreveport soon to visit my grandmother
as she was passing, I dedicated Guitar Repair Woman to her that night.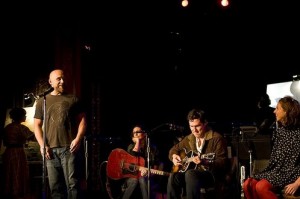 Rosie really shined on the piano.
I flew into Houston where Mom picked me up.
We drove to Shreveport together to say goodbye to
my father's mother, my last blood grandparent to pass,
in the place where I was born.
My father's sister and brothers were there.
They told me stories about my dad I hadn't heard.
He fought every weekend, for money,
against other fellas who wanted to fight for money.
Uncle Rob never saw him lose.
He drag raced and had already owned some
ridiculous number of cars by the time he and my mother married
because they would bet the titles of the cars at the race.
My inner alphadork rejoiced as I listened.
Here's Aunt Pam, Uncle Ricky, Uncle Rob and Memaw:
G-R-A-T-I-T-U-D-E!
My grandmother was in a lot of pain
but something inside me refused to erase the smile from my face.
If all she ever wanted was Heaven, and she was really about to go,
there would be joy in my eyes, and it was gonna glow on her when I spoke
to whatever degree I was able. Our goodbye was tender and right
and she knew there was no tragedy for her in my heart.
Godspeed Memaw! Do it up, Angel!
On the way back to Houston
Mom and me stopped in Kilgore, TX to surprise visit my Aunt Tina
who owns a liquor store there. Stop and say hi if yall ever drive through.
While Mom and Aunt Tina caught up, I drove to Longview and watched UFC 100.
I was by myself in a bar with lots of ripped drunk dudes.
Luckily I got there early and had the best table in the house
so I had four extra seats and jokes to offer in return for protection.
Back in Houston, I got to see Bruno with my sister and her husband.
The guy at the ticket counter warned us we had exactly 30 minutes
from the start of the movie to get our money back. That got me pumped.
The scene in the wrestling arena was worth the watch.
I only covered my sister's eyes once.
I think it was when Bruno spoke with his urethra.
Here's the two of us together at her college graduation a couple years back
(Sandy, send pictures!)
A heat wave was waitin' just around the corner back in Seattle
so the fellas and I went tubin' down the Wenatchee: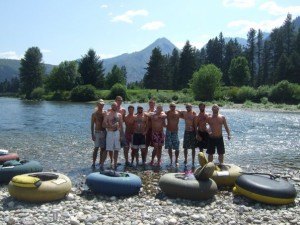 What a perfect way to spend a hundred degrees.
Next was SeaFair where the Blue Angels spent 3 days flying over Seattle
and boats filled all the surrounding waters
and every great thing about summer was in full swing.
We got to watch one day from a boat.
The boat turned out to be 30 minutes from sinking
when we finally pulled it into the repair slip.
The next day we watched from a rooftop.
The next day we recorded our farts on iFart.
Which brings me to now…
I'm just finished up with a new piece
"Hurling Crowbirds at Mockingbars."
I sure do like it. There are two lines about forgiveness in it
which are a direct result of listening to Reverend Kathianne Lewis.
I cannot take credit for their power.
I hope folks get as much out of those forgiveness lines as I do.
I'll post the piece in a day or two.
Word has it from Righteous Babe Records
that the live CD should in fact be released before
The Elephant Engine High Dive Revival Tour,
mid-September.
The Revival is gearin' up to be out on the road for 2 1/2 months this year.
I hope we do for every venue what this video did for me:

Have a great rest of your summer, E'erybody!
Intention, Al