December 15, 2014
Month twelve of the 16-month Riled Up and Wasted On Light World Tour
is nearly sweet history.
Two more shows left on the U.K. stretch
before a three-week writing residency in The Netherlands.
If I could only pick a friend or two from each leg of the tour
to stay there with me for the holidays.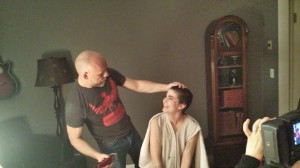 We could cook up cocoa and bake stuff,


build blanket forts and play hide-and-seek in the dark


and make a pillow slide on the stairs.


Man that would be so great.
I know y'all prolly can't.
I'll catch up on writing instead,


thanks to Dennis Gaens and Besiendershuis.
I'm gonna miss the safety of being with you, Leigh and Sarah.


Solid.
Tumblehome,
Bud