April 16, 2015
One of the most influential and trusty heroes
of my college years, Lee Shefferman, saw a poster
for the the final show of this epic Riled Up
and Wasted On Light World Tour, which will be
realized tomorrow where he now works as
a counselor at UNC in Greeley, Colorado.
Neither of us knew til last night.
Tonight I got to eat dinner with he and
his two little girls (made out of calm candy and
smiles that melt steel). One of them sang me a song
from Little Mermaid. Whole restaurant clapped when she finished.
There are 16 months (maybe 40 years) of reasons
I hold these tears on top of my face,
all of which have to do with arriving.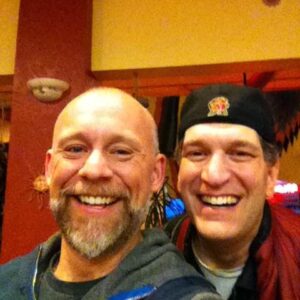 See y'all tomorrow night for one last show
(before I fly to Texas and put puzzles together with Mom!):
Tickets via www.buddywakefield.com/tour-info
Coincidence must be made of magnets.