October 14, 2017
Years ago I walked into a candy store with an old friend named Steve and we loaded up on a sack of chocolate situations. One of the original students at Youth Speaks Seattle, Mary, was behind the counter. Beam of light. Line drive of smile. Always was. So stoked to see her.
A couple years earlier Mary opened a show in Seattle and accompanied me (guitar/vox) on a new piece I'd written called Hurling Crowbirds at Mockingbirds. She nailed it. Of course she did.
When I tried to pay for the chocolate, Mary pushed my hand back… "Poets don't pay for candy here."
Months later I was scrolling through news and saw Mary on the MTV Music Awards performing "Same Love" with Macklemore and Jennifer Hudson… "Hey Steve, come in here. Remember the gal who gave us all the free chocolate at the candy store on Capitol Hill?" Of course he did. "That's who's singing the chorus on 'Same Love.'" Of course it is.
Not long after that we saw her on the Grammy Awards with Madonna and Queen Latifah. Last week she was with Macklemore again in front of 80,000 people at the Rugby Final in Sydney amid Australia's same-sex marriage vote.
Ear to ear proud? Pretty much.
Tickled to no end about the recent message from Mary inviting me to open for her in San Diego and Los Angeles next week? Absolutely.
On October 21st, Mary, Mal Blum and I gonna rock The Casbah (no, the actual Casbah) in San Diego before heading to L.A. the next day. You should probably come see this.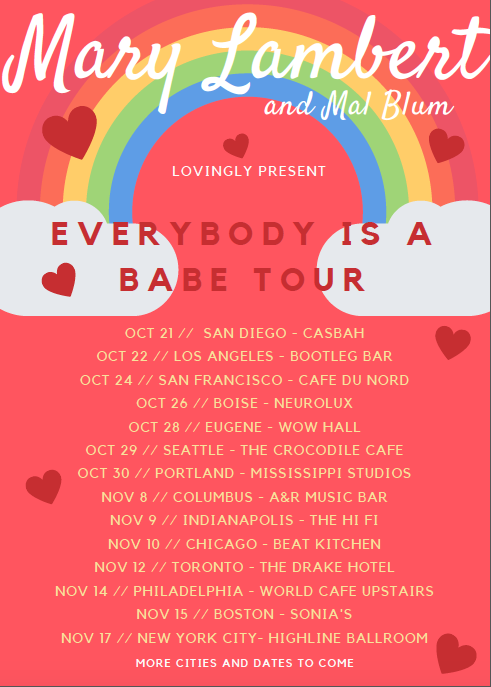 Tickets on www.buddywakefield.com/tour-info